Contact Me

Blog Archive

Pages

Labels

Monday, September 16, 2013
Review: The Burning Sky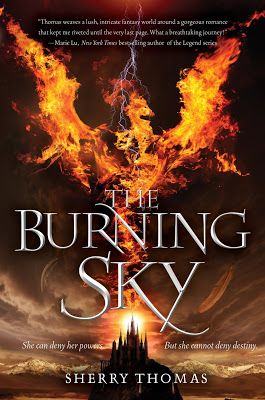 The Burning Sky (The Elemental Trilogy #1) by Sherry Thomas
Release date: September 17, 2013
Publisher: Balzer & Bray
It all began with a ruined elixir and an accidental bolt of lightning…
Iolanthe Seabourne is the greatest elemental mage of her generation—or so she's being told. The one prophesied for years to be the savior of The Realm. It is her duty and destiny to face and defeat the Bane, the greatest mage tyrant the world has ever known. A suicide task for anyone let alone a sixteen-year-old girl with no training, facing a prophecy that foretells a fiery clash to the death.
Prince Titus
of Elberon has sworn to protect Iolanthe at all costs but he's also a powerful mage committed to obliterating the Bane to avenge the death of his family—even if he must sacrifice both Iolanthe and himself to achieve his goal.
But Titus makes the terrifying mistake of falling in love with the girl who should have been only a means to an end. Now, with the servants of the Bane closing in, he must choose between his mission and her life.
Summary from Goodreads
ARC received from BEA 2013
Review:
The Burning Sky is an enjoyable fantasy with an emphasis on the relationship between the two main characters: Iolanthe and Titus. Those who expect their fantasy to be more fast-paced may be
disappointed, but if you don't mind pages dedicated to the building of a relationship with occasional boarding school hijinks this novel's for you. I enjoyed as it hit on many things I love: political machinations in a fantasy world, a cross-dressing heroine, elemental powers (think Avatar:The Last Airbender), and a developed romance.
Sherry Thomas was a romance writer prior to her YA debut and I felt that experience was reflected in the tension-filled relationship between Titus and Iolanthe as they find themselves attracted to each other, experience conflict, lose trust, then find a common cause. As far as the characters as individuals: Titus is one of my favorite heroes to date. I enjoy self-sacrificing protagonists, especially if they are pragmatic schemers working toward larger goals. The political maneuvering he is forced to do to preserve his secrets is right up my alley. I liked Iolanthe as well, but I didn't get as clear a sense of who she was, likely because Titus is the character driving the action. However she is allowed to shine when it comes to heroics, and does a great impression of an English school boy.
As far as world-building, we are given just enough to get a sense of how this universe works. While it's a plus to not be bogged down in exposition I would have liked more detail on the conquering New Atlantis, how it affected life in the Domain, the relationship between magic/non-magic lands etc. Also the rules of the magic system could have been more clearly delineated, for the most part it seemed that abilities were dependent on the situation. The overuse of the archaic word "foodstuffs" also irritated me, but these are nitpicks. The Burning Sky is a fun read.
Recommended for: People who enjoy magical adventures, romance, Evil Empires, boarding school stories, prophecies, the Graceling Trilogy or Throne of Glass.
4 Cricket balls.