Contact Me

Blog Archive

Pages

Labels

Wednesday, September 11, 2013
Review: Ashes on the Waves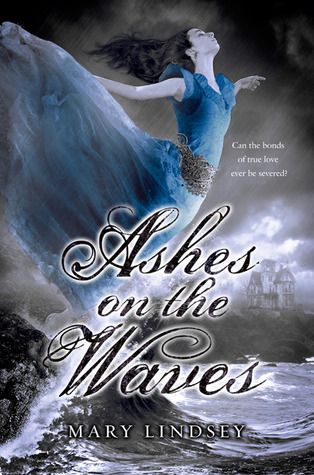 Ashes on the Waves by Mary Lindsey
Published By Philomel/Penguin
Liam MacGregor is cursed. Haunted by the wails of fantastical Bean Sidhes and labeled a demon by the villagers of Dòchas, Liam has accepted that things will never get better for him—until a wealthy heiress named Annabel Leighton arrives on the island and Liam's fate is changed forever.
With Anna, Liam finally finds the happiness he has always been denied; but, the violent, mythical Otherworlders, who inhabit the island and the sea around it, have other plans. They make awager on the couple's love, testing its strength through a series of cruel obstacles. But the tragedies draw Liam and Anna even closer. Frustrated, the creatures put the couple through one last trial—and this time it's not only their love that's in danger of being destroyed.
Review:
This novel, a modern day story based on Edgar Allen Poe's poem "Annabel Lee", did not work for me, largely due to the setting but I had other issues as well. The writing is good: Liam has a distinctly old-fashioned way of speaking influenced by both the speech patterns of his community and his classic and Romantic reading material. I enjoyed what we saw of the heroine and love interest: she has some WTF reactions I found totally
understandable under the circumstances. Use of Celtic mythology is something I usually enjoy and the use of quotes taken from various works by Poe at the beginning of chapters was interesting. Ultimately however the novel as a whole fell flat.
I normally try to suspend my disbelief and accept the world as presented by the author, but this book tested my limits. Though the story is set in the present day our hero and narrator, Liam, lives on a time capsule of an island. The lack of electricity and other modern amenities such as gas and medicine make the modern day setting seem more 19th century. I'm at a loss as to whether this island off the coast of Maine is part of the U.S., Canada, or is a country unto itself. This last choice seems to be the most likely, as this would explain the lack of any government or infrastucture. People seem be lured to their deaths every night, but no one ever feels that maybe they should move somewhere with a lower mortality rate. No one ever investigates these deaths and the only law is enforced at the hands of an angry mob. The primary link to the outside world comes from the convenience store where Liam works: gossip magazines are in stock, the number one choice of reading material for all superstitious lobster fisherman I'm sure. Hey, no judgement.
The setting's absurdities aside, the relationship driving the narrative is as shallow a case of insta-love as I've ever read. Attraction on Liam's part makes sense: he and Anna were childhood friends and she was one of two people to ever treat him like a human being. Anna's attraction also makes sense: she wants to escape her socialite life and Liam is allegedly super hot. It's when after a couple of days this attraction is declared an eternal soul bond kind of love that my eyes roll straight out of my head and down the road.
Also Liam's psychological damage as a result of being treated like a demon his whole life is magically cured by Anna telling him that's nonsense. It is, but that does not make his magnanimously forgiving the various characters for their treatment of him any more emotionally realistic. Liam's infatuation also makes for tedious reading: it's like going to dinner with a friend who's in a new relationship and talks about it constantly. I'm happy for you but it's been three hours, can we talk about something else? Like how to stop the constant drownings?
Speaking of the drownings, the villains of the story leave a lot to be desired. Poe's stories tend to be about human evil, his poems about the consuming nature of grief. Gothic novels tend to have an element of mysteriousness that make them effective. The supernatural creatures driving the plot of this novel sit around gossiping and making bets like it's happy hour at the bar. Some secrets from the past come out, but are ultimately unsatisfying and there is a literal deus ex machina.
Recommended for: People who can suspend disbelief regarding the setting, people who find Romeo and Juliet romantic, people who love the poem "Annabel Lee".
Two selkie skins
Posted by

JaimeLH TheWorldfortheReading
at 3:27 PM