Contact Me

Blog Archive

Pages

Labels

Wednesday, August 21, 2013
Waiting on Wednesday
Waiting on Wednesday is a weekly event where a spotlight is shone on eagerly awaited releases.
Thank you to Breaking the Spine for hosting!
This week's selection: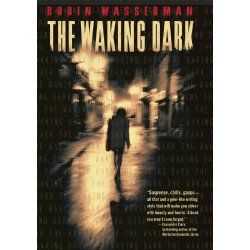 They called it the killing day. Twelve people dead, all in the space of a few hours. Five murderers: neighbors, relatives, friends. All of them so normal. All of them seemingly harmless. All of them now dead by their own hand . . . except one. And that one has no answers to offer the shattered town. She doesn't even know why she killed—or whether she'll do it again.
Something is waking in the sleepy town of Oleander's, Kansas—something dark and hungry that lives in the flat earth and the open sky, in the vengeful hearts of upstanding citizens. As the town begins its descent into blood and madness, five survivors of the killing day are the only ones who can stop Oleander from destroying itself. Jule, the outsider at war with the world; West, the golden boy at war with himself; Daniel, desperate for a different life; Cass, who's not sure she deserves a life at all; and Ellie, who believes in sacrifice, fate, and in evil. Ellie, who always goes too far. They have nothing in common. They have nothing left to lose. And they have no way out. Which means they have no choice but to stand and fight, to face the darkness in their town—and in themselves.
Expected Publication: September 10, 2013
I've never read anything by Robin Wasserman before, but this story looks really good. I always like to read dark and scary books in the weeks leading up to Halloween, it'd be a perfect addition. I missed out on it at BEA because I didn't realize Wasserman was there doing a signing, I would've waited on any kind of line. Oh well, live and learn.
I can hardly wait to read this book. Put it in front of my eyeballs!
Posted by

JaimeLH TheWorldfortheReading
at 12:48 PM