Contact Me

Blog Archive

Pages

Labels

Tuesday, August 6, 2013
Review: In The After
by Demitria Lunetta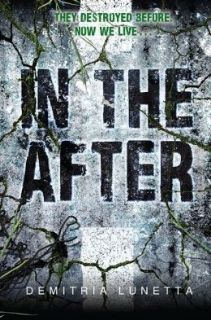 They hear the most silent of footsteps.

They are faster than anything you've ever seen.

And They won't stop chasing you...until you are dead.




Amy is watching TV when it happens, when the world is attacked by Them. These vile creatures are rapidly devouring mankind. Most of the population is overtaken, but Amy manages to escape—and even rescue "Baby," a toddler left behind in the chaos. Marooned in Amy's house, the girls do everything they can to survive—and avoid Them at all costs.




After years of hiding, they are miraculously rescued and taken to New Hope, a colony of survivors living in a former government research compound. While at first the colony seems like a dream with plenty of food, safety, and shelter, New Hope slowly reveals that it is far from ideal. And Amy

soon realizes that unless things change, she'll lose Baby—and much more.
Review: I've been in a reading slump lately and In The After turned out to be the perfect cure. I devoured its faced paced apocalyptic storyline in a few hours. This particular story has two parts, the first a survival story as Amy and Baby live under constant threat from the monsters outside their door, the second an examination of how a remnant of society has rebuilt itself and how our heroines fit in to the brave new world. Both parts are equally action packed, with Lunetta effectively using flashbacks to convey how Amy landed in her present situation in New Hope in the second half. Also I did not find the green monsters the scariest of the villains, the latter part really does bring the tension despite some shocking revelations being somewhat predictable.
Character-wise, I loved Amy and her pragmatism, her intelligence, and especially her love for Baby. I found her survival believable, especially in that she could be ruthless. Green man-eaters are not the only dangers out there and may not even be the most monstrous. A girl has to be able to make some tough choices. Baby also was a well drawn character, her loyalty and affection for Amy warring with her desperation for more human contact. My heart's a sucker for family relationships, especially found families, and this one hit me right in the squishy part. Secondary characters were pretty great too. Especially Kay, leader of New Hope's defense force.
As far as romance goes, it was present but not emphasized. Various post-apocalyptic goings-on and monster attacks really took center stage. Just what I signed on for. As far as any flaws, I can't get into it without venturing into spoiler territory, and I'm not going to. Really, criticizing the green monster invasion book for having nonsensical science probably misses the point by about a mile. The realness of how the human survivors behaved and the exploration of the choices they made in order to insure both personal survival and the continuation of society more than made up for it.
To sum up succinctly: 4.8 out of 5 ravenous green man-eaters.
Posted by

JaimeLH TheWorldfortheReading
at 10:38 PM