Contact Me

Blog Archive

Pages

Labels

Wednesday, August 28, 2013
Waiting on Wednesday #2
This week's selection is: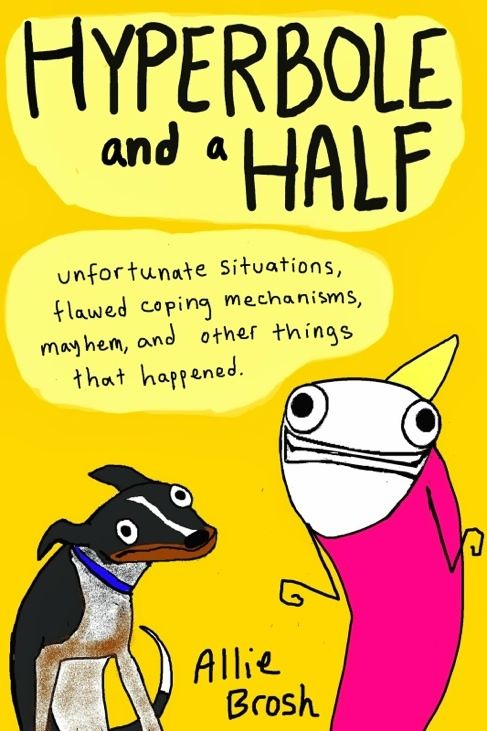 Hyperbole and a Half: Unfortunate Situations, flawed coping mechanisms, mayhem, and other things that happened.
Named one of the Funniest Sites on the Web by PC World and winner of the 2011 Bloggies Awards for Most Humorous Weblog and Best Writing, the creator of the immensely popular "Hyperbole and a Half" blog presents an illustrated collection of her hilarious stories with fifty percent new content.
In a four-color, illustrated collection of stories and essays, Allie Brosh's debut
Hyperbole and a Half
chronicles the many "learning experiences" Brosh has endured as a result of her own character flaws, and the horrible experiences that other people have had to endure because she was such a terrible child. Possibly the worst child. For example, one time she ate an entire cake just to spite her mother.
Brosh's website receives millions of unique visitors a month and hundreds of thousands of visitors a day. This amalgamation of new material and reader favorites from Brosh's blog includes stories about her rambunctious childhood; the highs and mostly lows of owning a smart, neurotic dog and a mentally challenged one; and moving, honest, and darkly comic essays tackling her struggles with depression and anxiety, among other anecdotes from Brosh's life. Artful, poignant, and uproarious, Brosh's self-reflections have already captured the hearts of countless readers and her book is one that fans and newcomers alike will treasure.
Expected Publication: Oct. 29, 2013
I love, love, love Ali Brosh's website: Hyperbole and a Half. It's hilarious and has brought us such memes as "Clean all the things!" and the "Alot". The updates to the site have dropped off as she struggled with depression and focused on her book, and I can't wait for the new material. I really want this book to do well, Brosh has a unique comic style and an honesty. She expresses the effects of depression well without losing her comic tone. Her work is great.
Posted by

JaimeLH TheWorldfortheReading
at 10:05 AM