Contact Me

Blog Archive
Pages

Labels

Saturday, November 16, 2013
Review: The Twistrose Key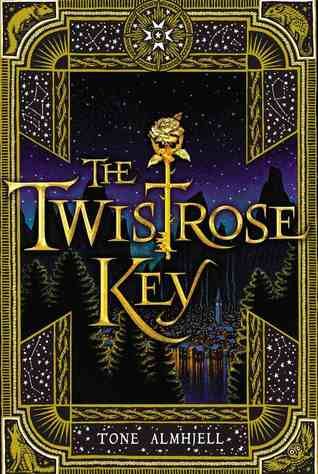 The Twistrose Key
By Tone Almhiell
Published By Dial
Publication Date: October 22, 2013
When a mysterious parcel arrives at her family's new home, eleven-year-old Lin Rosenquist has a curious feeling she's meant to discover what's inside.
Much to Lin's surprise, the ornate key contained in the parcel unlocks a spellbinding world called Sylver, hidden behind the cellar door. Sylver is an enchanting land of eternal winter, inhabited by animals that shared a special connection with children in the real world, either as beloved pets or tamed wild animals. In death, they are delivered to Sylver, where they take on a curiously human-like form and still watch over the children they cherish. While Lin is overjoyed to be reunited with her beloved pet, Rufus, she soon learns that the magic of the Petlings and Wilders is failing, and snow trolls want to claim Sylver for themselves. Lin must discover a way to stop them and save this enchanted world.
Review: The Twistrose Key is an adorable middle grade fantasy adventure story that has many elements children will love. It will be especially charming for animal lovers as most of the characters are anthropomorphized beloved pets or wild animals. A tale of a young girl traveling to a magical land of winter inhabited with talking animals will draw inevitable comparisons with The Lion, The Witch, and the Wardrobe: though this novel is not as sophisticated as The Chronicles of Narnia, it also lacks any whiff of religious allegory. It's allowed to be what just it is: a magical adventure story featuring a brave young girl, her pet vole/best friend, and a quest.
There are many charming elements to the novel: the bunny who works as a tailor and worries how her human girl is doing without her, the bear who attempts to make a living painting china, the waffle restaurant. The friendship between Lin and Rufus lies at the heart of the novel and will be touching for anyone who has ever loved a pet. With all that said, I personally did not find myself fully engaged with the novel. In my opinion there wasn't enough conflict or struggle in the story to give it stakes. To make another comparison: Coraline by Neil Gaiman starts with Coraline feeling ignored and neglected by her parents, as well as adjusting to a new home. She then has to use her brain to get out of some scary situations. Lin of The Twistrose Key is sad to be living in the city rather than her old farm, but clearly has parents that are bending over backwards to make the adjustment easier for her. Lin is also an intelligent girl, but a lot of her problem solving is attributed to happy coincidences or magical powers that are conveniently bestowed upon her. The story isn't as interesting as a result.
Of course, I am not the target audience for this novel so those in the 8-10 range will probably find more to entertain them. Personally I give this novel 3 Stars, 4 Stars for how children will likely receive it, averaging:
3.5 Stars.
Posted by

JaimeLH TheWorldfortheReading
at 7:38 PM